These 16 Snacks Were Made For the Mediterranean Diet - and They're on Amazon!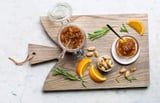 Get the Full Story
There are so many different ways people like to eat, but one plan that's been surging in popularity recently is the Mediterranean diet. Essentially, this means you're eating lots of fruits, vegetables, healthy fats like nuts and olive oil, whole grains, legumes, and animal protein like fish and seafood. That's a lot of different kinds of food to choose from, but if you're like us, you only think about snacks. Well, you're in luck, because these 16 snacks all fall within the Mediterranean diet, and they're available on Amazon!
Related:
This List of Foods You Can Eat on the Mediterranean Diet Proves It's Not Really a Diet
Share:
Related Posts
More in Lifestyle...